Commercial Mop Rentals
Wet Mop, Dust Mop and Microfiber Mop Rental Services
Servicing New Jersey, Pennsylvania and Delaware Greater Areas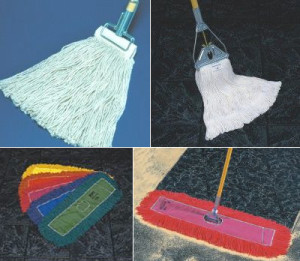 For unparalleled durability and performance every time, turn to Garden State Mat Rental. Clean floors are both an aesthetic and a safety issue. Your floors are a reflection of the care you put into your business, so you need to have the right tools on hand to keep them shining at all times. Dirty floors can cause accidents, not to mention the health risks from the accumulation of dust, filth and bacteria. Trust Garden State Mat's high-quality mops to get your floors truly clean. We are a leading choice for commercial mop rentals in New Jersey, Pennsylvania, and Delaware. Mop your floors with the best mops in the business!
Learn more about the selection of mops that we offer:
Our selection of cut-end wet mops can be used for almost any application, from general mopping to applying finish.
We offer a wide selection of dust mops for industry-specific applications. Dust will vanish when you use our quality and easy-to-use dust mops.
Our microfiber mops offer up to fifty times the amount of filament found in traditional mops, helping keep floors cleaner than you thought possible.
Interested in a Free Quote for Your Business Needs?
Garden State Mat Rental can answer any questions you have about our mat rentals and other products. Request a free quote today! Our mop experts are standing by to help you select the right options for your business floors. We also offer a large selection of mats to protect your space from dirt and liquids. Our innovative service solutions and streamlined customer service have kept us on top of thousands of floors throughout the area since 1971. Let us help you keep your floors clean!
Customer service is available at 800-486-1581.