Classic Impressions mats offer the ideal combination of eye-catching appearance and high-performing durability. Safety, advertising and welcoming guests is important to all companies. Classic Impressions logo mats offer this and more! Our Classic Impressions mats are manufactured on state-of-the-art digital printers with the ability to print virtually unlimited colors, create 3-D images, print very small letters and phase in colors.
Manufactured on a state-of-the-art digital printer.
Up to 25 base colors and up to 300 accent colors to choose from.
Pantone™ color matching is also available.
Static dissipative nylon yarn with StainStopper™ Technology.
100% nitrile rubber backing for increased slip and skid resistance.
Reproduction of fine detail, fades and 3D images.
Certified "high traction" by the National Floor Safety Institute.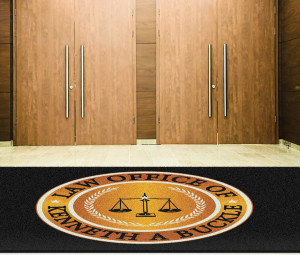 STANDARD SIZES: 2'x3', 3'x4', 3'x5', 3'x10', 4'x6', 4'x8', 5'x8', 5'x10', 6'x10' and 6'x12'.
SPECIAL SIZES: Up to 40'.
AVAILABLE BACKING: Smooth, Universal Cleats and Suction. Suction-backed mats are not available in 5'x10', 6'x10' or special size mats.
AVAILABLE COLORS: Click to view available commercial mat color options