Anti-Fatigue Matting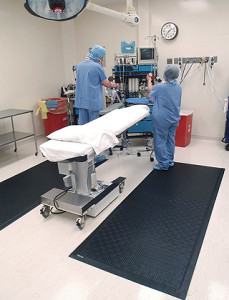 Servicing New Jersey, Pennsylvania and Delaware Greater Areas

Often the true revenue producers in companies perform their duties while standing on their feet. Our collection of anti-fatigue matting offers ergonomic benefits that provide comfort to your employees and value to your company.
Slip-resistant, secure footing with a ribbed texture.
Buoyant relief of foot fatigue from long standing.
Did you know that thousands of sick days are lost every year to health issues related to the limbs? Don't let your employees be one of them! If you have employees who have to spend long hours at work standing up, anti-fatigue matting is not just an investment; it is a necessity. With the right anti-fatigue matting, your employees are more comfortable, they feel better cared for, and they will be even more motivated to be productive.
Not all anti-fatigue matting is made equal; some are good, others are even better and more worth your investment. If your business is located in New Jersey, Pennsylvania, or Delaware, there is only one place to get the best anti-fatigue matting rentals: Garden State Mat Rental!

The Garden State Anti-Fatigue Matting Difference
With Garden State Mat Rental anti-fatigue mats, you can rest assured that:
Your floors are more comfortable for employees no matter how long they need to be on their feet at work;
Your floors are slip-resistant;
Your floors are protected from the bad effects of high foot traffic at the workplace.
Why Choose Garden State Mat Rental
For almost 50 years now, Garden State Mat Rental has been providing the tri-state area with the best mat rentals available. We have all of your mat needs covered – from logo mats to anti-skid mats, to our OSHA-approved anti-fatigue mats!
We are not only committed to providing the mats that will give you your every cent's worth; we pair up our topnotch materials with even better services. Garden State has championed the use of the latest and best technologies in maintaining and cleaning our mat products to make sure that they always get back to you in the condition that you can be proud of. And with us at Garden State Mat Rental, you can trust that our trusty trucks will take your dirty mats and deliver your clean ones on the dot every single time.
From the best choices to the most impeccable services, Garden State Mat Rental is your go-to name for mat rental services in Delaware, New Jersey, and Pennsylvania. Call us today at 800-486-1581 to get a FREE QUOTE for the services you need.