Commercial Towel Rental Services
Towel and Apron Rental Services in New Jersey, Pennsylvania and Delaware Greater Areas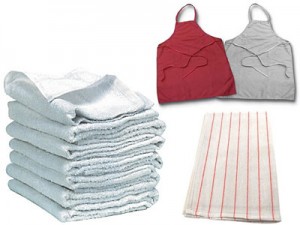 Garden State Mat Rental supplies towels and aprons for beauty shops, restaurants, taverns and more. Look to us for:
bar towels
kitchen towels
bath towels
beauty shop towels
colored aprons
white aprons
Beauty shops are a specialty, Garden State Mat Rental services hundreds of beauty shops in the greater Delaware Valley.
Did you know that kitchen towels are a leading culprit in cross-contamination in kitchens? And did you now that a towel can make a world of difference in making sure hair salon clients are safe from the chemicals used in hair treatments. The quality of towels used in spas, massage salons, and even hotels also make up an essential part in completing the satisfaction of clients.
To make sure that your towels are always of the best quality, processed in topnotch facility, and handled by professionals who know how to take care of your towels and how to take care of customers. In the tri-state area, call Garden State Mat Rental! We have the widest array of commercial towels available, a high tech facility, and a team of courteous, helpful, and pro experts to help you with your towel needs and concerns.
Why You Should Pick Towels from Garden State Mat Rental
Garden State Mat Rental has been serving the Pennsylvania, Delaware, and New Jersey areas since 1971. That is more than 40 years of taking care of the mats, towels, and facility needs of countless business across the tri-state area.
We have kept our reputation of reliability and our throngs of loyal customers with our dedication to delivering the best quality service we can provide. You can rest assured that we put in as much work, effort, and excellence in our towel rental department as we do our mats because that is what our business is essentially about: excellence and customer satisfaction.
Get started with your Garden State towel rentals today! Call 800-486-1581 or 856-488-1370 for Southern New Jersey areas to get a free quote!